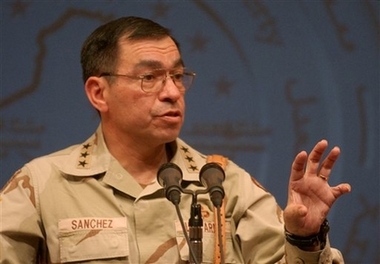 Iraq
ARLINGTON, Va. – Retired Lt. Gen. Ricardo Sanchez stated regarding the U.S. mission in Iraq "There is no question America is living a nightmare with no end in sight"
Asked when the mission was going awry, he responded: "About the 15th of June 2003" — the day he took command.
"There is nothing going on today in Washington that would give us hope" that things are going to change, he said.
"There has been a glaring, unfortunate display of incompetent strategic leadership within our national leaders,…"
"America continues its desperate struggle in Iraq without any concerted effort to devise a strategy that will achieve 'victory' in that war-torn country or in the greater conflict against extremism," he said.
Not mentioning President Bush, he called the president's troop-escalation "surge" strategy a "desperate attempt by an administration that has not accepted the political and economic realities of this war."
"There is no question America is living a nightmare with no end in sight," he said.
Unite America with The Centrist Party
Enough is enough. We must unite to reclaim our government. Join the Centrist Party. Work together to heal our nation and return balance in governance and common sense for the nation and the people.
The Centrist News
Check out Centrist News & Perspectives for centrist media intelligence: