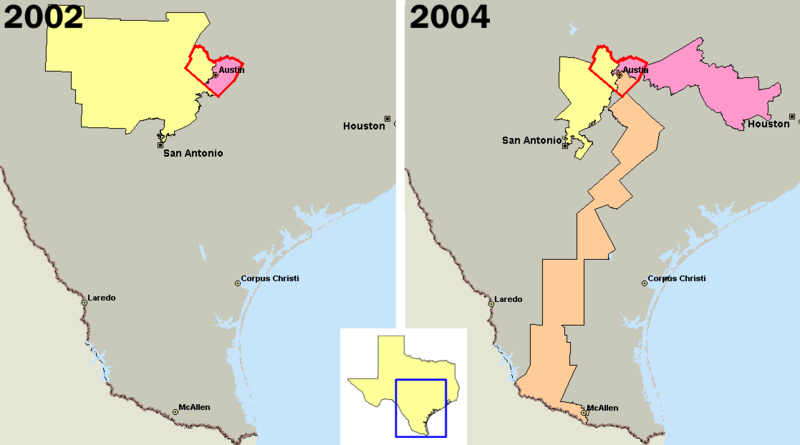 Manipulating isn't Fair, Just or Right
Step One: Set your platform in such a manner as to ensure you get funding from the appropriate mix of special interests. … Allowing sitting politicians to redistrict their own regions is sort of like storing all the cookies in your kids room and saying "don't eat any, because they are very, very tasty" …
U.S. congressional districts, Travis County, Texas (outlined in red) in 2002, left, and 2004, right. In 2003, Republicans redistricted the state, diluting the voting power of the Democratic county by parceling residents out to more Republican districts.
Set your platform in such a manner as to ensure you get funding from the appropriate mix of special interests.
Get elected.
Take advantage of the fact that you are now an elected official to redistrict your region in order to increase the odds that you, or a fellow party member will be reelected. Maximize the breadth of your reach and influence to significantly influence the next election and virtually guarantee that incumbents of your party will win again.
That's it, a very simple process.
Note: The new redistricting software version 4.3 now comes with a two and six year term warranties (optional). These "special interest" warranties are available to all interested "parties".
The software can pack and crack a district with surgical precision. The warranty is void however in the event congress begins to make sense; or a centrist party gains power.
A gerrymandered region can not achieve proportional or descriptive representation of the public. Gerrymandering raises the costs of elections and manipulates the system in favor of the incumbent.
It has been reported that in the 2004 California election this method proved completely effective. Out of 53 congressional, 20 state senate, and 80 state assembly seats potentially at risk no State or Federal legislative office changed party. 2006 is threatened by the same risk.
'Stop the Steal' by getting the money out of politics.
Allowing sitting politicians to redistrict their own regions is sort of like storing all the cookies in your kids room and saying "don't eat any, because they are very, very tasty", closing the door and then going out to dinner for, say, two to six years. . .
We need to get a handle on this. The public is not served when the electoral process is manipulated by legal means that deteriorate the very purpose and intention of the electoral process.
We need a neutral electoral redistricting process that balances representation across the spectrum of caste, culture, and class demographics (aka "the people") in order to give the overall electorate a fair chance at electing representatives that actually represent the interests of the people. It just makes sense.
Unite America with The Centrist Party
Enough is enough. We must unite to reclaim our government. Join the Centrist Party. Work together to heal our nation and return balance in governance and common sense for the nation and the people.
The Centrist News
Check out Centrist News & Perspectives for centrist media intelligence: